HOBBYWING / ShuurSpeed - Stock Classes at JConcepts
Name: Cole Henriksen (Right)
Hometown: Corning Iowa
Home track: Bluegroove Raceway
Chassis: AE B5M, SC5M, and B44.3
Motor: Schuur Speed Extreme Stock Spec V3
ESC: Hobbywing V3.1
Battery: Team Orion 4500 100C
Years Racing: 4
How is your racing experience going so far here at the JConcepts Winter Indoor Nationals at SmacTrac?
It started off a little shaky because I wasn't able to arrive in time for practice and my seeding round Friday night was my first pack on the track.
What do you think of the track and the racing so far?
So far the racing has been really good. The driving has been clean and the track is challenging and tight. That's the kind of racing I like though so it's been really fun for me.
How are your cars? What did you do to get more performance from your equipment?
First, my car was really floaty, but after changing my shock package with lighter oils and springs, things have been going good so far. Running 3 cars, and having to wrench on them with no practice has been tough, but I'm here and I'm having a great time.
Tell us about the Schuur Speed Extreme Stock Spec V3 motors… how are they performing?
The torque is awesome. The layout has a lot of tight turns at slow speeds so the gearing has been dialed in for good bottom end power and they rip!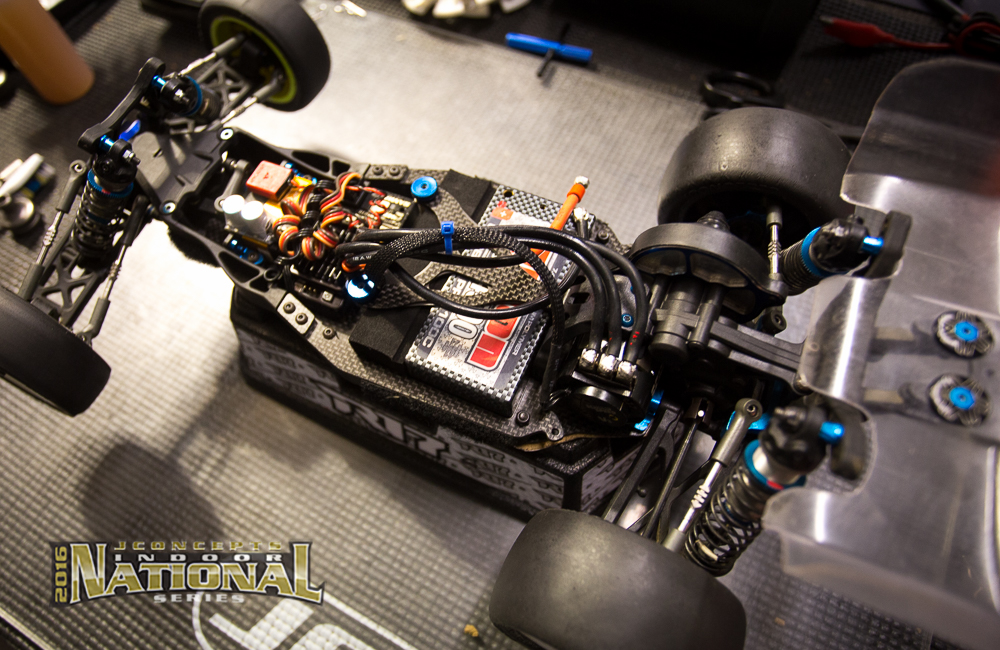 Cole is TQ in 13.5 4wd, 2nd in stock 17.5 SC, and 3rd in stock 17.5 2wd buggy. 
Here is the base setting that Cole started with for his Hobbywing V3.1 ESC for those who are interested.
Stock Settings
Fwd/Brk
LVC – Disabled
ESC Overheat – 125F
Motor heat – 125F
PR Sw point – 70
1st punch rate – 27
2nd punch rate – 30
Th Curve – Linear
Neutral Range – 6%
Drag Brake – 2
Brake Strength – 62.5%
Initial Brake – =Drag Brake
Brk SW Point – 80%
1st Brk Rate – 7
2nd Brk Rate – 12
Brake Curve – Linear
No Timing Function used